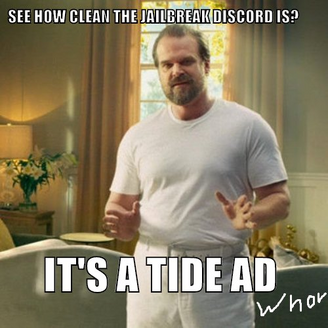 Invite Code to jailbreak
Description
The Jailbeak Discord is a discord server owned by Badimo (badcc and asimo3089). It allows players to voice chat in game, post vip servers, get notifications about announcements, post suggestions, talk with Badimo, chat with others, and have fun.
Discord Staff
Here are the staff that keeps the Discord in check and clean.
Badimo (2)
Super Admin (2)
Administrators (4)
evaera
maplestick
ObscureSalad
Younite
Moderators (9)
pii_n
Blizzyrd
angusb143
TheSeanConn
ImTheSky17
Vaizu
HammieJammie
Carbon_Bones
Danieltrein
Other Roles
Some other roles other than staff.
Known Developers (21)
AlreadyPro
Belzebass
berezaa
Cracktop
NoahWillCode
ouohello
PeteyK473
Sharksie
the_zelda
YellowTide
Zomebody
Zyleak
(Unknown x10)
Youtube Stars (16)
DaRealBengo
EvanBear
INOOBE_YT
Kavra
KiraBerry
MyUsernamesThis
NapkinNate
RealKreek
Remainings
RussoTalks
WhoIsTacTickles
(Unknown x5)
Bots (5)
Sergeant (Nightbot)
Sherrif (Dyno Premium)
Trainee (Mee6)
Dyno (Retired)
RoVer
Regulars (21)
jasonh34
Aedaz
Agent_Rio
AndyGaming
Aquaventurer
AyeLucifer
Ayzhaolong
Belzebass
blitzkrieg_101
BlueJellyJJ
Blackblood_Shadow
Crackop
Demolicy
DreayWyven
eddo_mylegoo
EpicGamerDaBee
fluidsc
Hadoc
Knifeskull
legobrick969
lovehuskies3
manatee301
marktheartest
Minecraftgamerseth
MyUsernamesThis
orangewarrior78
PeteyK473
pinthekin
PremiumSalad
PixelatedArtifact
Jailbreakius
jdoggie14
KidTHatHates_Roblox
KING_GAMER112
FearMeIAmLag
QuickandSmart
RealSw1ft
Remainings
SunDownZ
amaanq13
LuckyLuxray
Hackerman (9)
GameAnnounce
Internecivus
moded
ObscureSalad
Raspy_Pi
wolf_prefab
3dsboy08
Rerumu
Malenz
shayner32